Solar control​
Suntuitive's adaptability means the Solar Heat Gain Coefficient (SHGC) varies between 0.40 and 0.26 depending on the intensity of the sun.

Thermal insulation
Unlike permanent dark tints, Suntuitive lets the sun in when it's needed and blocks it when it's not, for better insulated buildings.

Dynamic tint
Suntuitive's dynamic tint adjusts the light transmission depending on the sun's position, mitigating the need for blinds or overhangs.

Energy saving
Suntuitive manages a building's changing needs for passive solar heat gain and natural daylight to lower heating, air conditioning and artificial lighting loads.

Visibility
Suntuitive MonoLite's best feature is the ability to adjust the Visible Light Transmission (VLT) from 57-4% as needed over the day.

Fade protection
Suntuitive completely blocks UV light, for the most superior fade protection.
Time of day Vs Light Transmission (VLT)
Glazing that is efficient in one season might not be efficient in another. The same principle applies for different times of the day when the sun position and intensity changes.
The below diagram shows how regular glazing with fixed performance can cause the room to flood with too much daylight, heat, and glare at certain times of the day. As you can see, dynamic glazing adjusts room illuminance as needed to ensure only the right amount of light and heat is entering the building throughout the day.
Glass Options
Can be laminated with clear, grey or green glass for different looks and performance figures
Glazing options
Retrofit, replacement and new construction in both commercial and residential applications
Vertical or sloped glazing,  curved or shaped
Combine with pyrolitic Low-E coatings on the room side for enhanced performance
Typical Laminate Assembly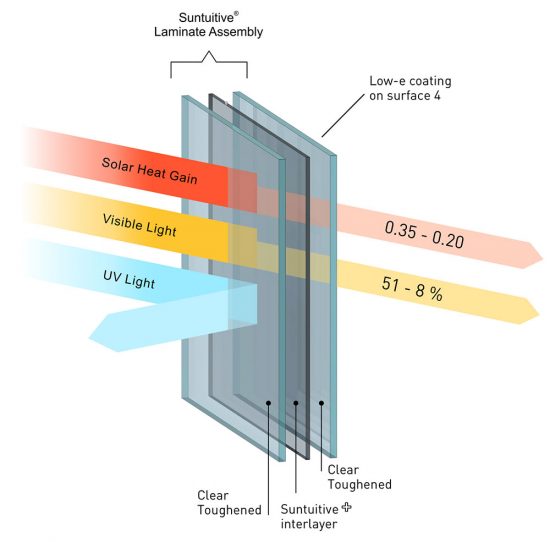 The variable performance of Suntuitive MonoLite compared to either clear or tinted windows (with fixed performance), makes it ideal for a range of applications but particularly skylights or heritage buildings looking to improve thermal performance and control natural light but where a double glazed unit is not possible. Some examples include:
Offices
Access to natural light is proven to improve productivity and morale
Improved health and less absenteeism due to less artificial lighting and temperature control
Healthcare
More hygienic than blinds
Patients recover quicker with access to natural light
Education
Students proven to concentrate better with access natural light
Less spread of illness due to less artificial temperature control
Lower energy bills
Green Star projects
Potential points for 'Innovation'
Gain points for 'access to natural light' 
Energy saving/reduce emissions
A few example glass make-ups shown below. Please contact Glassworks if you require data for a specific make-up that is not represented here.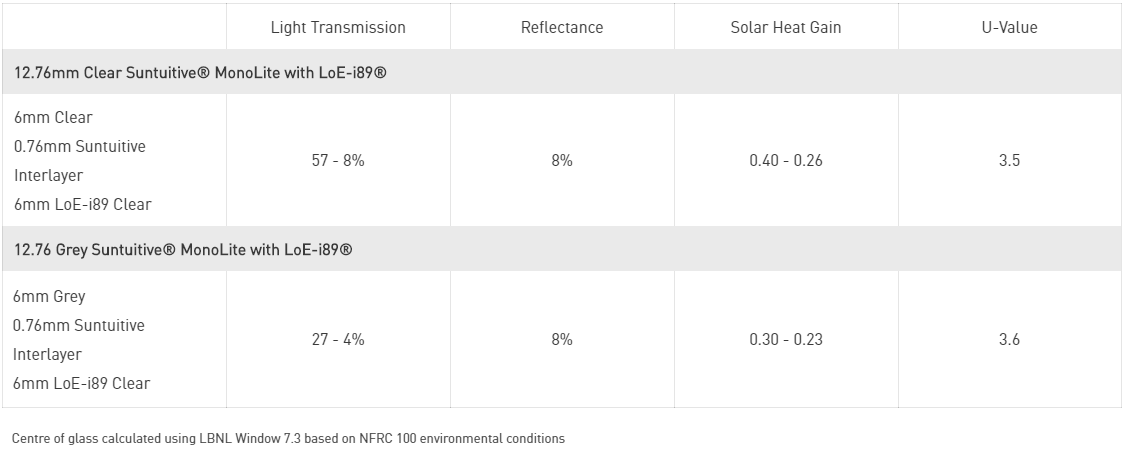 Light Transmission

Reflectance

Solar Heat Gain

U-Value

12.76mm Clear Suntuitive® MonoLite with LoE-i89®
6mm Clear
0.76mm Suntuitive Interlayer
6mm LoE-i89 Clear


57 - 8%

8%

0.40 - 0.26

3.5

12.76 Grey Suntuitive® MonoLite with LoE-i89®
6mm Grey
0.76mm Suntuitive Interlayer
6mm LoE-i89 Clear


27 - 4%

8%

0.30 - 0.23

3.6
Centre of glass calculated using LBNL Window 7.3 based on NFRC 100 environmental conditions
Please note that Glassworks is a glass manufacturer and not a glazier or window supplier. We supply the glass to the industry only.